---
---
Our Core Values
Service to the Nation
Reliability and professionalism
Honesty and integrity
Responsibility and accountability
passion for Innovation
What we do?
Scientific support for drug law enforcement operations and investigations
Scientific evidence based strategic interventions
Scientific intelligence services
Promote the Scientific evidence based policy and decision making
Promote scientific based initiatives, standards and best practices
QUALITY OF OUR LABORATORY SERVICES
Quality Policy of the NNL
Providing high quality laboratory and scientific services in order to assure that the requirement of the customers and the relevant statutory and regulatory Authorities are met and their expectation are exceeded through the application of effective QMS.
INTERNATIONAL STANDARDS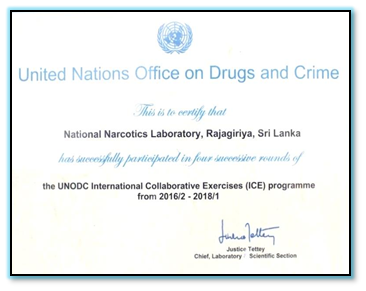 The NNL participates for the International Quality Assurance Programme conducted by the United Nations Office on Drugs and Crime (UNODC) and accuracy and the quality of the test results of the NNL are being regularly monitored on a global scale
LABORATORY AND SCIENTIFIC SERVICES
The staff of the NNL is committed to establish an integrated, multi-disciplinary, balanced and coordinated scientific evidence based strategies for effective implementation of the National Policy on prevention and control of Drug abuse. The main services of the NNL are as follows
"We are committed to establish an integrated, multi-disciplinary, balanced and coordinated scientific evidence based strategies for effective implementation of the National Policy on prevention and control of Drug abuse."
Scientific support to effective drug law enforcement
- Suspected drug analysis for investigation, operational and intelligence purposes
- Provision of drug detection test kits for field identification Scientific consultancy services
- Capacity building on identification of emerging drugs and illicit drug market trends
- Counter measures against Internet and Social media drug sale and Postal/Courier drug trafficking
Scientific support for regulatory purposes to prevent diversion of drugs/substances
- Identification and analysis of Pharmaceutical drugs with high abuse potential
- Screening of Dietary Supplements for performance enhancing drugs in Sports prohibited by World Anti-Doping Agency (WADA)
- Analysis of products containing alcohol and tobacco
Analysis of precursor chemicals
Scientific evidence based Drug prevention Strategies
- Scientific training programmes on science behind the myths and realities of drug abuse and skill development for preventing drug abuse among school children
-Promote scientific evidence based best practises in school setting, the Universities, work places and prisons
- Scientific consultancy for the development, implement, monitor and evaluate drug prevention strategies for schools, workplaces

Scientific evidence based treatment, rehabilitation & reintegration
strategies
- Analysis of biological specimen such as urine for the presence of metabolites of controlled/ prohibited drugs therein for the following purposes;
- Identification and assessment of drug dependent persons under treatment process as per the order of the Court and requirements of the Drug Dependent Persons (Treatment and Rehabilitation) Act, No. 54 of 2007.
- Diagnostic purposes and prescribing medical treatment for patients in Private and Government Hospitals
- Identification of the cause of intoxication of inmates in treatment and rehabilitation centres and in Prisons and to identify their abstinence from drug abuse
- Issue certificates of being "drug free" for pre-employment and foreign educational "screening" purposes
- Improve the efficiency and the productivity in the workplaces through work place drug testing
- Capacity building of medical and counselling practitioners, in the area of treatment and rehabilitation of drug dependent persons
- Instructions for the submission of samples of biological specimen (Urine) for analysis

Capacity building programmes
Capacity building programmes are being organized by the NNL in order to impart knowledge on the following subjects for Government and Non- Government agencies involved in prevention and control of drug abuse including drug law enforcement agencies, health authorities, prison authorities, education sector, work places, laboratory personnel etc.
Scientific training programmes
Scientific training programmes consists of lectures on drugs of abuse, including narcotics, psychotropic substances and precursors and discussion of legal aspects of drug related offences and their implications as applicable. Moreover, resource persons from the Attorney General's Department share their expertise on legislations pertaining to drugs, evidence collection, case preparation and presentation to Courts.

Computer Based Training (CBT) program
The CBT which is an e-Learning program is specially programmed to impart knowledge on drug related materials through, videos attractive pictures and voice recordings in both English and Sinhala medium. This program has been established by UNODC in collaboration with National Dangerous Drugs Control Board (NNDCB).
Scientific Research
Conducting scientific research in drug demand and supply control is one of the main functions of the NNL which is of great importance to find effective solutions to various aspects of the drug problem. The NNL scientists have research publications to their credit in local and international scientific journals, on the basis of their scientific research and analysis.
Understanding the Heroin user market, changes in the availability of Heroin, patterns of drug supply
Drug characterization and impurity profiling studies for identifications of: Sources of drugs such as geographical origin, Specific links between different stages of drug supply, Distribution net work
Monitoring manufacturing methods and Identification of precursor chemicals used which are important in precursor control measures.
Scientific evidence based assessment on the nature and the extent of the drug problem, trend analysis, to take more effective policy decisions, and legal measures, more effective health related interventions
Evaluation of the reliability and effectiveness of treatment methodologies
Scientific evaluation of mindfulness practice for long term outcomes inthe treatment process
Researches undertaken by the National Narcotics Laboratory (NNL)
Recent Developments and Ongoing Projects
E-Scientific Consultancy for drug law enforcements
Mobile Drug Testing & Training Facility Development
Mini-Laboratory for Hospital Drug Screening
Laboratory Network on Collaborative Scientific Research Activities
Science, Technology and Innovation (STI) Platform for Prevention and Control of Drug Abuse
Detection of Novel Psychotropic Substances on Blotter Papers
Muthumala KM, Weerasinghe DPP, AlokaBandara S, Abeysinghe S
Drug Trafficking through Social Media and the Need for Scientific Intelligence Collection to Strengthen Drug Law Enforcement Capacities" – Best Presenter Award, Medico Legal Society, Annual Scientific Sessions, 2018
Abeynayake MWNM, Weerasinghe DPP, AlokaBandara S, Abeysinghe S
"Scientific Intelligence and Digital Evidences on Medico-Legal Cases: An Effective Way to Counter Drug Related Organized Crime and Illicit Drug Trafficking through Internet and Social Media"
Anushan K, Weerasinghe DPP, AlokaBandara S, Abeysinghe S (Medico Legal Society, Annual Scientific Sessions, 2018)
"Scientific Expert Witness on Drug Related Criminal Cases: An Effective Way to Strengthen the Peace, Justice and Strong Institutions" (Medico Legal Society, Annual Sessions, 2018 )
Anushan K, Weerasinghe DPP, AlokaBandara S,
Psilocin in chocolates – Detection for the first time in Sri Lanka (Medico Legal Society, Annual Sessions, 2017 )
Fernando R, D.P.P. Weerasinghe, K.K.D.T.D. Godakumbura
Detection Diazepam in a smuggling attempt through Sri Lankan Postal Services (Medico Legal Society, Annual Scientific Sessions, 2016 )
A.D.Y.K. Athauda, D.P.P. Weerasinghe, Fernando R
Do Common Arishta Preparations Manufactured in Sri Lanka contain Anabolic Androgenic Steroids (AAS), Stimulants or Ethanol? (Abstract Book of 131st Anniversary International Medical Congress of the Sri Lanka Medical Association)
Fernando, PNJ, Pigera, S., Roshani, SAN, Fernando, R., Weersinghe, DPP, Godakumbura, KKDTD, Niriella, MA, Jayawickrama, S, de Silva, AP
Multiple Drug Abuse Life-Time Patterns in a Complex Bio-fluid (Abstract Book of 131st Anniversary International Medical Congress of the Sri Lanka Medical Association)
Athauda, ADYK, Weerasinghe, DPP, Fernando, R.
Degradation of Heroin and its relationship to the MAM content of samples.
Presented at Indo Pacific Congress on Legal Medicine and Forensic Sciences, Bankok, Thailand, Medico-Legal Socienty of Sri Lanka
Published in Forensic Science International Scientific Journal Vol. 67 of 1994
Variation in the THC contents of Cannabis sativa L.
Degradation of Heroin in to MAM and Morphine both at ambient temperature and under refrigerated condition
Estimation of THC content of Cannabis from various areas in Sri Lanka and the effect of storage on its THC contents.
Degradation of Heroin on storage and its legal implications in Sri Lanka
A further study on a different aspect in relation to heroin degradation
A new method for identification of the origins of different sample of heroin
Studies on the degradation of heroin Part II
Determination of the source of street samples of heroin by estimation of the Acetyl codeine/Morphine ratios
Presented at Medico Legal Society of Sri Lanka
A comparative analysis of market samples of "Madana Modakaya" an indigenous drug containing cannabis.
Presented at 2nd World Congress on Health, Environment and Culture, Tokyo, Japan and Association for the Advancement of Science Annual Sessions
Published in International Medical Journal
Adulterant and diluents found in street samples of heroin and their forensic use in source identification
Presented at the Scientific Sessions of the Medico Legal Society of Sri lanka
Analysis of urine to monitor the progress of its inmates under treatment at Talangama Rehabilitation Centre.
Detoxification effect of ghee on cannabis in the Ayurvedic drugs - IAFS, Tokyo, Japan
Drug in sports – Some aspect of forensic importance - Medico Legal Society, Sri Lanka
Indigenous preparations containing cannabis – Their forensic significance in Sri Lanka context
Complex – cannabis based drugs reliable analytical technique for quantification of its THC contents.
Urine analysis project on the reliability of Ayurvedic treatment as a therapy for heroin addicts at BMARI
The report on the analysis of cocaine content in Erythroxylum novogranatense plant in different areas of Sri Lanka
Presented at scientific sessions of the Medico legal Society, Sri Lanka
Research project on examine the possibility of multiple drug usage in Sri Lanka
Research study for identification of cannabis varieties of Sri Lanka